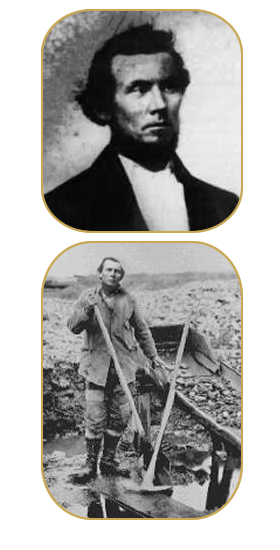 John Calhoun Johnson
1822 - September 13, 1876
Native to Deersvile, Ohio, little is known of John Calhoun Johnson's early life. It is gathered that he came west by 1848 and made his living by carrying mail on snowshoes from Placerville to Nevada City. He is also known to have practiced law during the days of vigilantes and acted as a judge among miners. When California was admitted to the Union Johnson was one of the first practicing lawyers, working with El Dorado, Amador, Nevada and Sacramento, and was a member of one of the first sessions of California Legislature.
He was the first Treasurer of El Dorado County, Secretary of Placerville and became one of eight State Assemblymen representing El Dorado County. He owned a Ranch is what is now Camino, whiche he used not only a house for himself and his family, but also lodging for immigrants and miners as well as general store,
and during the Indian Wars of 1850 it was also a California Militia encampment.
"Johnson's Cutoff" was the path he blazed over the mountains as a mail carrier. It was later utilized by the Pony Express and is now essentially Highway 50. Perhaps he is best known in Placerville, however, after a sleepwalking incident in July 1869 led him straight out a third floor window. He recovered, and it was not until 1876, 70 miles southeast of Tucson, Arizona, where he would be killed by an Apache raid. He was on his way to prospect new land in Arizona, and he would leave behind a wife and seven children.