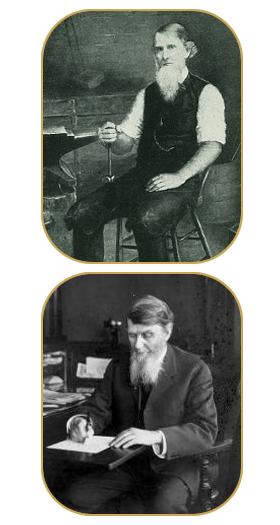 John Studebaker
October 10, 1833 - 16 March, 1917
Born in Gettysburg, Pennsylvania, John Mohler Studebaker moved with his family to Ohio in 1836. There, two of his five brothers would become blacksmiths, but John was tempted west by word of the Gold Rush to Placerville. While much of the gold mining going on was already at full employment, he accepted a job making wheelbarrows which, at first, he admitted to being very bad at.
His perserverence ultimately paid off, he had long waiting lists for his creations and became known locally as Wheelbarrow Johnny. The original site of his business is now acclaimed as #142 of California's Historic Landmarks. However, by 1852 he had become unsatisfied and took his $8,000 in savings to South Bend, Indiana. There he started the Studebaker Wagon Corporation,
supplying wagons for the Union Army during the Civil War.
It was not until 1902, at the age of 68, that Studebaker would fund five battery-powered electric car models, or "horseless carriage," under the advice of this son-in-law. By 1901, he had made over 9.5 million dollars from distributing his vehicles in co-operation with other companies. In 1911, the Studebaker Corcporation was formed, discontinuing electric vehicles in favor of gasoline automobiles. Following the outbreak of World War I, Studebaker offered his facilites for military vehicle and material manufacturing throughout the war. John was still serving as honorary president when he died at age 83, and his name was added to the Automobile Hall of Fame.